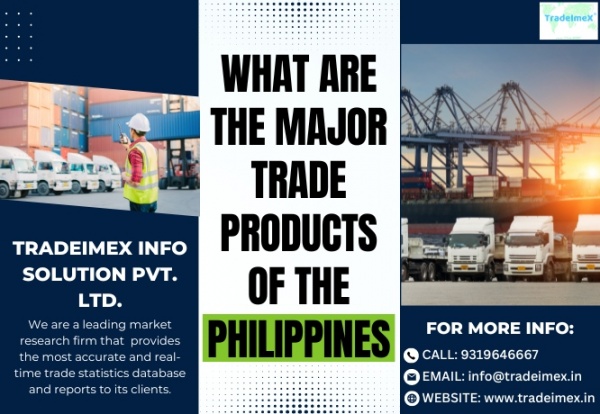 The Philippines is known for exporting a variety of products. According to Philippines Trade Data Some of the major exports of the Philippines include:
Electronic Products: The Philippines is a major exporter of electronic goods such as semiconductors, electronic components, and consumer electronics. It has a significant presence in the global semiconductor industry and is one of the world's largest exporters of semiconductors.
Machinery and Equipment: The Philippines exports machinery and equipment, including power generation and transmission equipment, industrial machinery, and various types of vehicles. These products cater to both domestic and international markets.
Coconut Products: The Philippines is one of the largest producers and exporters of coconut products in the world. It exports coconut oil, desiccated coconut, coconut water, and other coconut-based products.
Food and Beverages: The Philippines exports a wide range of food and beverage products, including processed fruits and vegetables, seafood, canned goods, snacks, and beverages. Popular exports include dried mangoes, canned tuna, and banana chips.
Garments and Textiles: The Philippines has a thriving garment and textile industry. It exports apparel, clothing accessories, and textiles to various countries around the world.
Chemicals and Chemical Products: The Philippines exports chemicals and chemical products such as petroleum products, organic and inorganic chemicals, fertilizers, and essential oils.
Furniture and Furnishings: The Philippines is known for its furniture and furnishings industry. It exports a variety of products, including wooden furniture, home decor items, and handicrafts.
Automotive Parts and Components: The Philippines exports automotive parts and components, including electrical parts, engine parts, body parts, and accessories. It has a growing presence in the global automotive supply chain.
Jewelry: The Philippines exports jewelry, including gold and silver jewelry, gemstones, and fashion accessories.
Other Products: Other notable exports from the Philippines include paper products, rubber products, processed meat products, and chemicals.
It's important to note that export trends can vary over time, and new products may emerge as significant exports based on market demand and economic conditions.